angkorhospital.org
Angkor Hospital for Children in Siem Reap, Cambodia is an independant, internationally-funded children's hospital which is setting new benchmarks for compassionate paediatric healthcare and cutting-edge scientific research in South East Asia.

In early 2019 Canadian branding agency Aubs&Muggs presented AHC with a beautiful rebrand. Their comprehensive but flexible guidelines showcase AHC's unique approach, very high medical standards, and the vibrancy and energy of our patients and their families within the Cambodian context.

We used the opportunity of the 2018 AHC Annual Report to roll out the rebrand to our community of international and in-country donors and stakeholders.
Read the full 2018 AHC Annual Report
here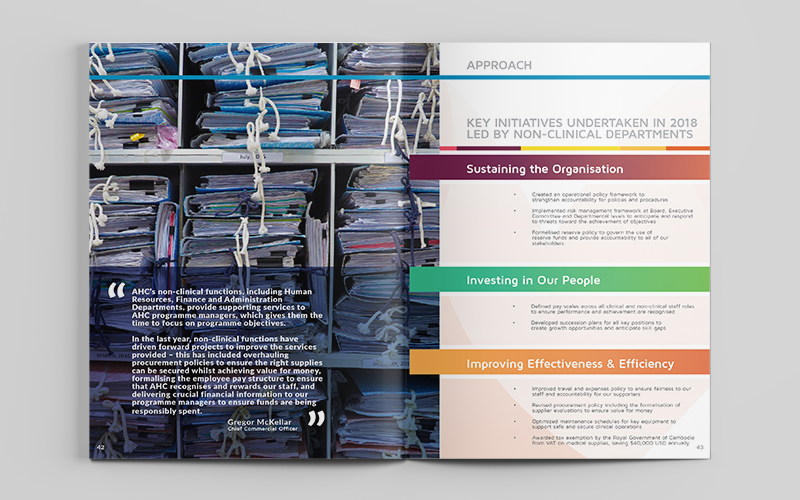 In 2020 we decided to refine the layout of the 2019 Annual Report to provide a second template for future in-country designers to use for AHC documents and publications.
Read the full 2019 AHC Annual Report here
For the first year, in 2021 we were able to produce the AHC Annual Report 2020 as a bilingual document in Khmer and English. This was due to the significantly reduced content and our decision to publish it exclusively digitally to address reallocated funding due to COVID-19. I was able to finalise this project just before my contract with AHC ended, and I am so proud of the result and of the collaboration between the team in Cambodian PR and Development + Comms to produce it entirely in-house together.
Read the full 2020 AHC Annual Report

here
Follow AHC on Instagram
here